On many occasions whilst sitting around the camp fire with other keen LBG anglers, the subject of large Southern Bluefin Tuna in Tasmania comes up, as boats regularly land fish in excess of 100kg while trolling close to the rocks.
So in 2015 I made my first trip to Tasmania, to check out if there are landbased options.
What I found was deflating. The areas where the boats have most success are a landbased anglers worst nightmare. Sheer, vertical sea cliffs for the most part and if there was any fishable real estate the local Seals would be firmly planted there.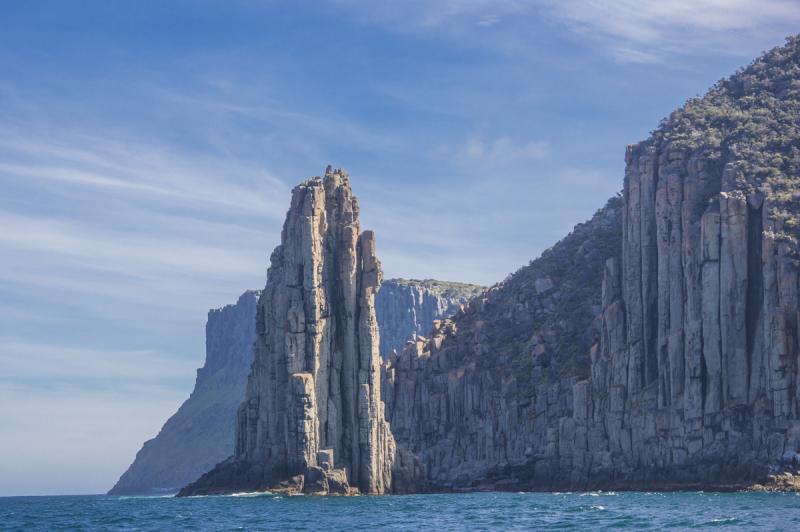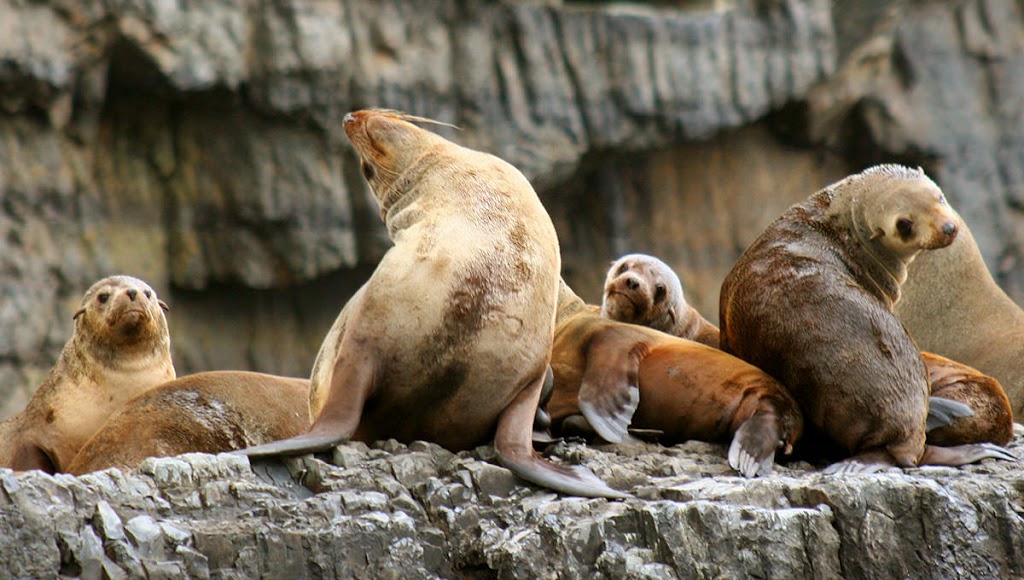 Furthermore, walking tracks are limited and everything is a long way from nowhere. But it's a wild and beautiful place, which takes your breath away. After a week of cruising around and a lot of hiking and asking a lot of questions, I returned back to Melbourne wondering if it was worth bothering. I really didn't have high hopes that one of the ledges away from the main action could produce a hookup. 
But over the next year I couldn't get the beauty of the south east coast out of my mind and thought there would be worse places to spend a week and catch nothing.
The spot I had in mind needed some absailing, so I bought some gear and had a crash course in the ups and downs of it and practiced down on the Victorian coast.
When the time came I was as prepared as I could be and super excited but also very nervous when prepping for things like updating rescue beacon details

 My gear looked more like a mountaineering expedition than a fishing trip.
Then it was time to get my old companion onto the Spirit of Tasmania
On the first day the aim was to find a descent route to the ledge and make my way up again. All I took with me was my climbing gear and my epirb just in case. I wish at that point i packed my head torch as well but I figured I would be down and back up before dark. There was a faster way down but I opted for the longer way around.
What followed over the next 7 hours was one of the most agonizing ordeals I ever had. Half way back up the hill my legs started cramping up and exhaustion set in. I had to sit down every few meters for a rest.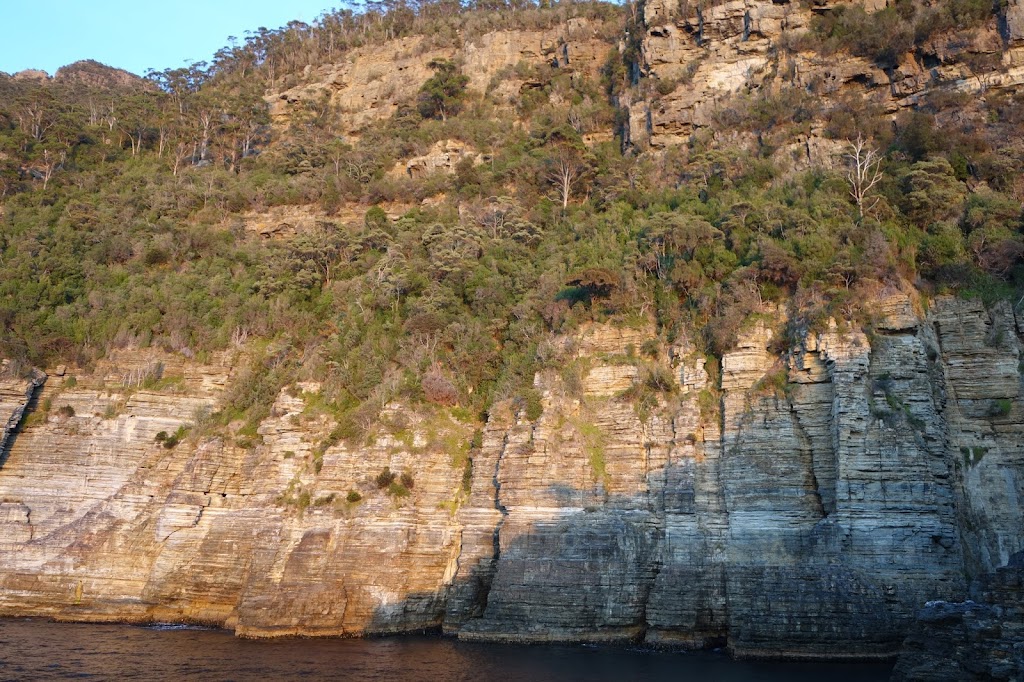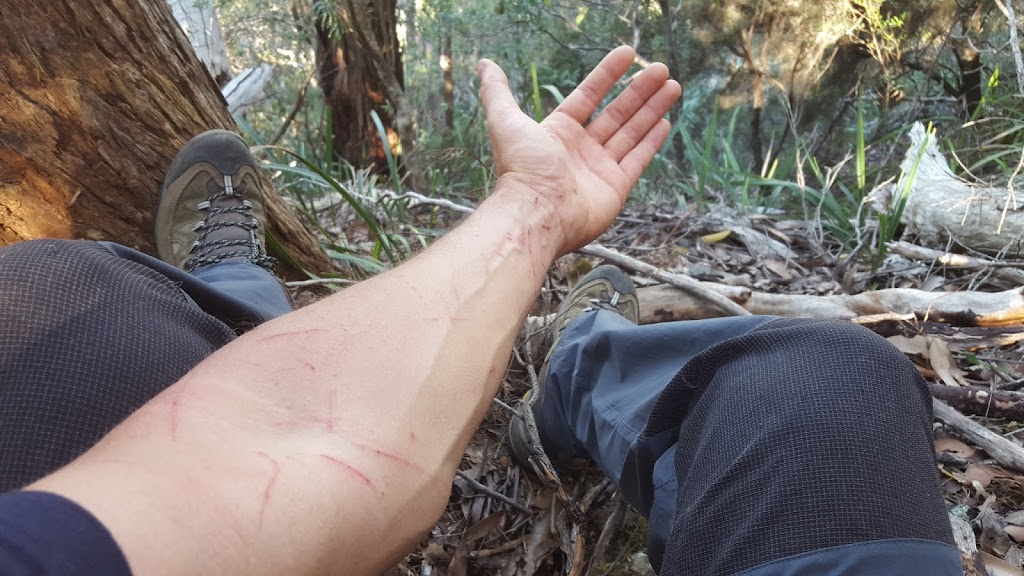 It became clear I wouldn't make it back to the car before dark and Ii weighed up my options. Not wanting to set off the epirb, I tried to find a suitable spot to sleep the night. But I didn't even have a jumper. Whilst there was still a little light I tried to make it to flatter ground, maybe 30 meters at a time before sitting down again. Scared of spending the night I just kept pushing on like that and eventually I was back up at flat ground. With the help of a little light from the phone I then made surprisingly good progress and was eventually back on the walking track. Now I knew i would make it back to the car and after another couple of hours and in a lot of pain I slumped into the Patrol.
The next day I wasn't up to doing much at all but i made a phone call to Damo from Wildoceantasmania who I spoke to the year before about a possible boat drop at a ledge.
We arranged for the following day to be dropped off in the morning, which was a mission in itself.
Although I didn't have too much hope of hooking a fish, I was well prepared in case I had to land a big Tuna by myself and I set up a 4 to 1 pulley system.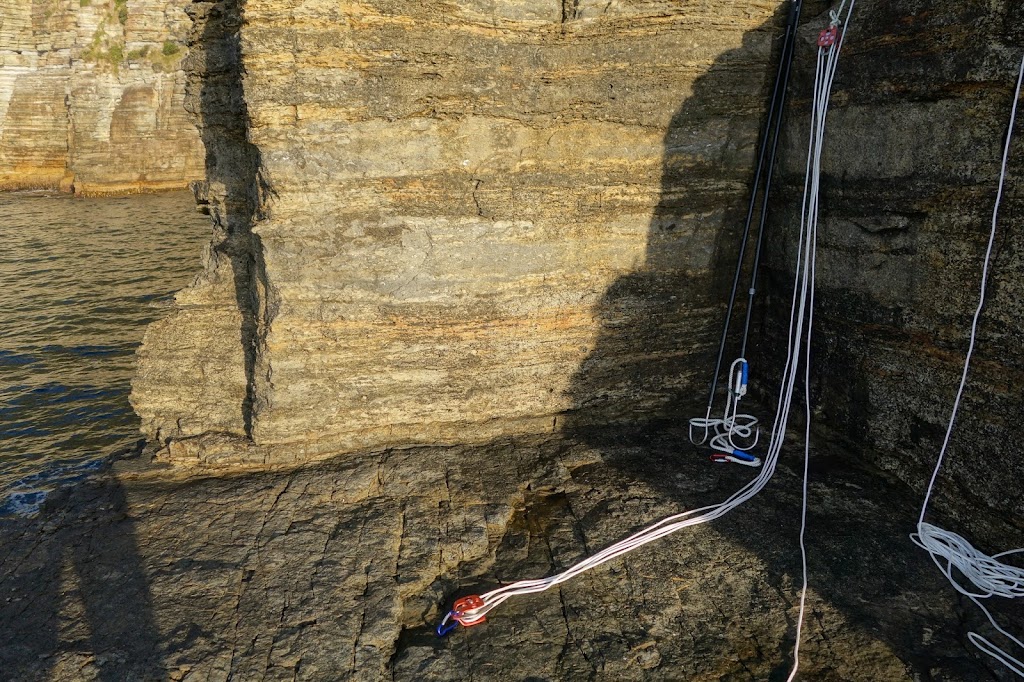 Camping was 5 star as usual and I was lucky with the weather as well. It stayed dry for the most part of my trip.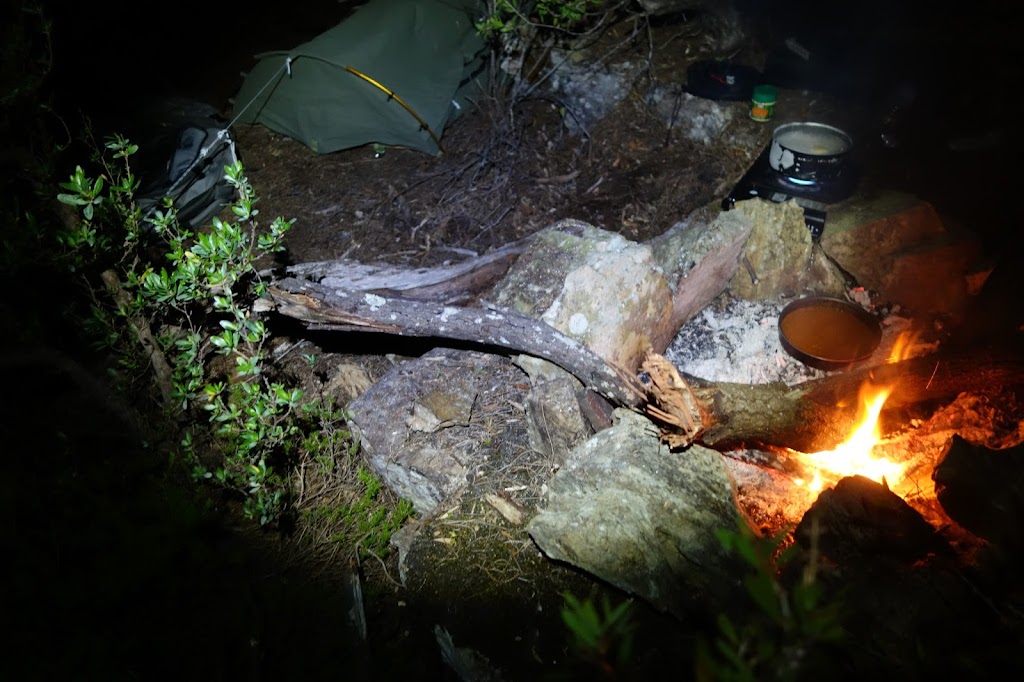 The ledge was the most stunning piece of rock I ever fished of and the feeling was a bit overwhelming at times. One couldn't help but wonder if anyone had fished off here before.
I won't get into the fishing details of things, that's for the next person's own journey. Needless to say i didn't get my dream fish or any other for that matter and things just continued to work against me with every turn, but it sure is one hell of an adventure to fish the Tassie rocks.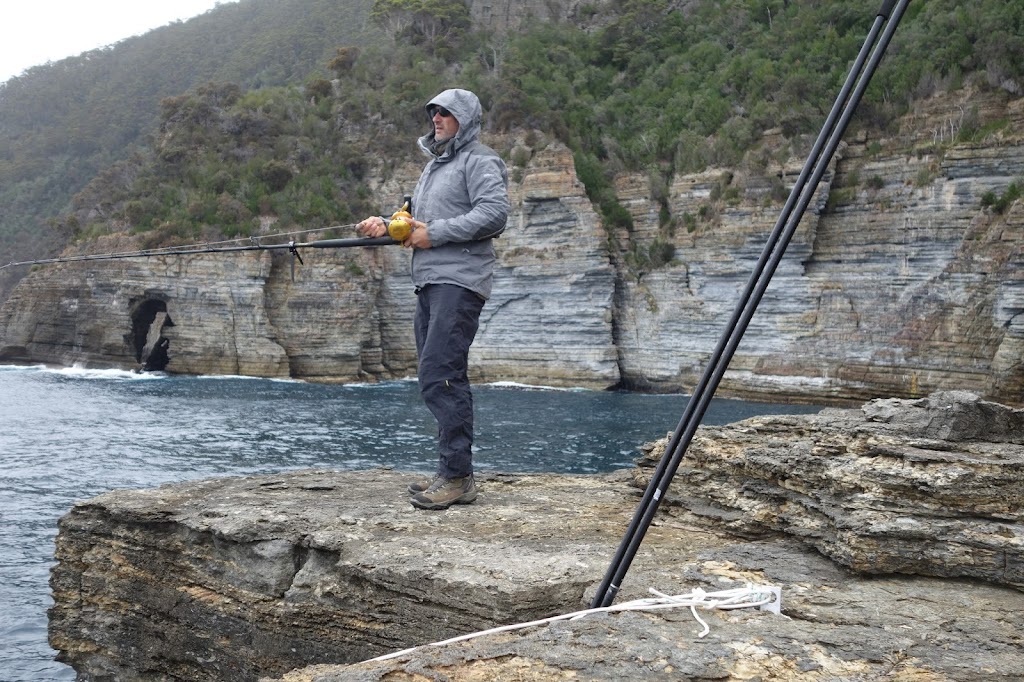 One thing i did take away with me was a huge amount of respect and appreciation for the area as a whole and it becomes apparent quickly what a special place it is and how important conservation is.
I was also lucky to have met Damo from Wildoceantasmania to get an insight into his world of giving rather than taking. Please do yourself a favour and have a look at his website and if you are down that way, go on a trip of a lifetime.