I made the road trip last October to catch up with Pete and Damo in NSW. The plan was to abseil one of the front ledges to get away from the crowds and hopefully hook up to a good King.
It was a early start to drive to the gate and get the mountain bikes to take us as far as we could. Then it was a hard walk through thick scrub to get to the towering cliffs.
Then it was time to get all the gear ready and checked and harnessed in, ready for the absail.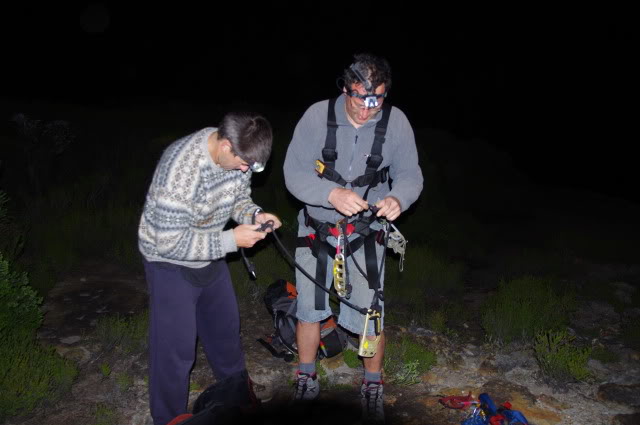 Pete went down first with most of the gear, including rods and backpacks and then it was my turn. Adrenaline levels were up as i had never absailed before.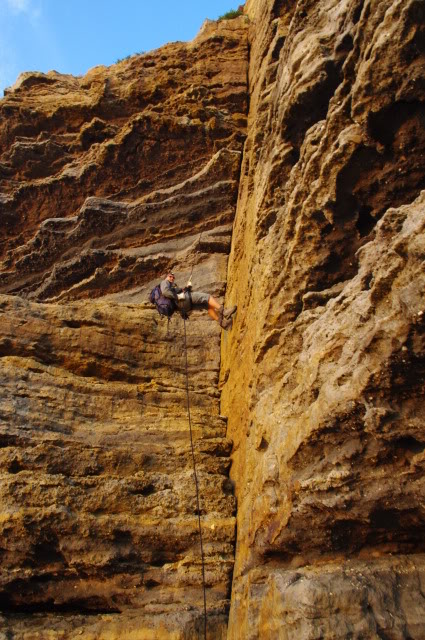 The morning proved difficult for livebaiting with wind making it difficult to get a bait out and we changed our tactic and ducked around the corner with the surfrods.
The morning was slow but suddenly all hell broke loose. Pete hooked up on the surfrod loaded with 15kg mono and this fish had some massive power. Pete knows this terrain well and his rodwork was amazing. He has spent more than 20 years chasing big kings and has landed them just shy of 30kg but never cracked the magic 30kg mark. The fish went down hard and came back up, went left and right but Pete had all the answers, freespooling just at the right moments.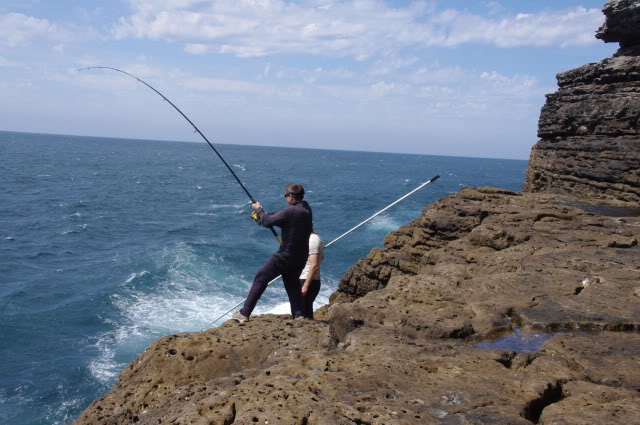 After a long battle Damo got ready with the gaff and we waited for the fish to show himself and when it did, it took all our breaths away. It was massive.
Gaffing proved difficult with a big wave coming over and Damo was completely covered. Then on the second attempt Damo sunk the gaff home.
Once we settled down after a few high fives and caught our breath, it was paramount to get the massive King up the ledge and officially weight.
Pete tried to pruss the king up the wall but it was just too top heavy so we used the ropes and pulled him up from the top.
Pete then had to get the king back through the thick bush and back to the car on the bike.
By the time i was back at the car i was totally stuffed and i have no idea how Pete made it.
When we got back to town, the King pulled the official scales down to 30.2kg which after a few weeks got recognised as a official LBG record on 15kg line for Peter Oberg.
Needless to say, Pete was stoked that after all tose years he achieved his dream.
I am eternally thankful for Pete and Damo to take me along on a trip of a lifetime. What a rush !!
xxxxxxxxxxxxxxxxxxxxxxxxxxxxxxxxxxxxxxxxxxxxxxxxxxxxxxxxxxxxxxxxxxxxxxxxxxxxxxxxxx
Peter Oberg 1969-2014
My heart is filled with sadness as i update this blog. My friend Pete had a tragic accident fishing Seal Rocks in May 2014 when a freak wave took him out to sea. Peter Oberg always lived and fished to the fullest and many people that knew him thought he was somehow part of the ocean.
I like to think he was born in the sea, lived for the sea and simply went home.
We all miss you mate …………..RIP.