There were some changes in 2014 with access to the Beecroft Weapons Range, with first access restrictions to only daylight hours and then it was changed to the gate opening at 2 am in the morning. This meant for us we missed out on booking any accommodation in time and we made a plan to travel up from Melbourne before Christmas, hoping to get a spot on an outer ledge for 4 weeks. When Brad and myself got there, we found nobody else was there camped for that time and we started to set up our swags.
We didn't have much luck fishing wise and as the weather blew up we couldn't fish. Then we got a call, Francois had secured an overflow site at the caravan park and we packed up and concentrated on fishing the bay instead.
Previously we slept down there on the rocks, but now we had to carry all our stuff in at 2 am and back out every night. Pumps, hoses, pools, backpacks, rods and reels, burley etc. Setting up pools at 2.30 am and catching bait til the sun comes up, then fishing all day. After 3 days of this routine, we were stuffed.
All I managed to hook was a Hammerhead Shark, which we released.
After the first week, Adem and Francois came up and Brad had to go back to Melbourne. Neither of us had any luck over the next 3 weeks, but we saw Antonio catch a magnificent Marlin, which gave us a lot of motivation to get up early in the mornings and fish, eat, sleep, repeat.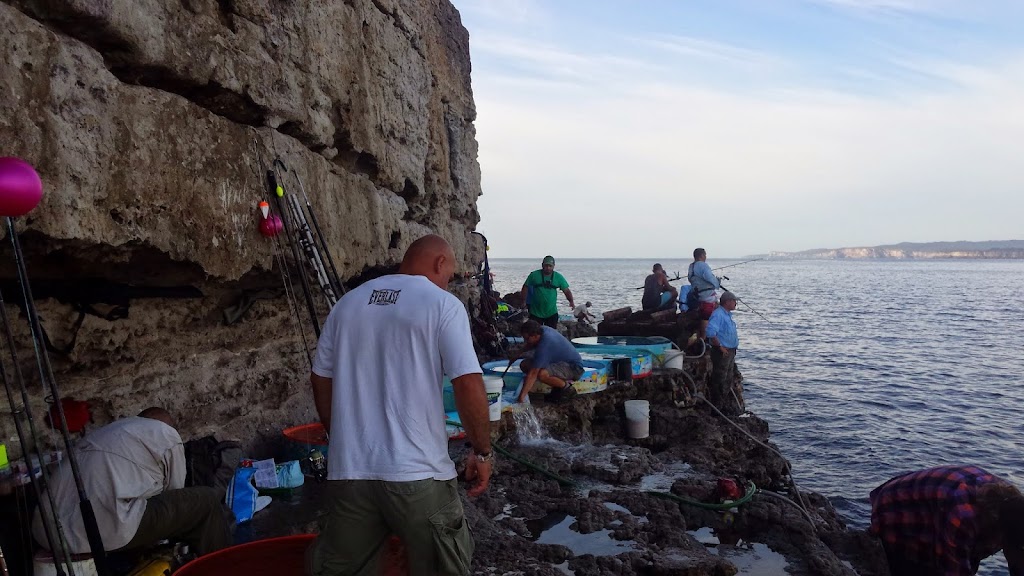 At the end of my 4-week stint, I stopped for a fish down the coast and reflect on the 4 weeks with a cold beer or two. Having just left, plans were already set in motion to make the 9-hour drive back up the following weekend. Work commitments, relationships and sanity can be pushed to the limits in the pursuit for this one fish of the stones.
The next weekend came and went fishless again, so did another weekend after that. Driving up from Melbourne for 9 hours on a Friday after work, to be at the gate at 1 am and ready to fish til Sunday afternoon and drive back to Melbourne, sleeping at the factory for a couple of hours before starting work is a tough gig and this was to be the last trip for the season.
Motivation on Saturday was at an all-time high after young Wil Scheibe had just landed a magnificent Marlin and everyone was buzzing.
As it happened, I fed out a live Slimie Mackerel on the southern end and couldn't control it. The bait snagged me around a boulder and I lost my rig and had to retie the double. I was spewing.
Finally, back in business, I fed out another bait on the northern end just behind Nathaniel's bait. All of the sudden as I feeding outline, it went a bit quicker and the float went under. I said to Nathaniel "I think I'm away". He said, "you reckon?". I said, "not 100% sure". He said, "wait a bit". It just kept cruising off at a steady pace and my heart was in my pants. Nathaniel said, "I think you're on, maybe hit it". I said, "you reckon?". It picked up a bit of speed and I hit it. To my delight, a small Marlin launched out of the water. It put on a great show, jumping all over the place, to the left of the bay and then back to the right. It's all a bit of a blur as I was so worried the hook would pull again or something else would stuff up as it had before.
Young Brett Rushton managed to take a couple of great jump shots.
Needless to say, I was over the moon when the fish hit the rocks after a few years of trying to catch one and I finally had some luck as well. The hook was only just lodged in the very last soft part of the bill.
Although painful, it was a great pleasure to carry the fish back up the steep track to the car and in traditional fashion, it was strapped to the bullbar and taken to the filleting table.
A big thanks to the local guys for sharing the ledge with us again this summer, to Phil for gaffing the fish for me and to Corbo for taking some great pics.
Also a big thanks to the guys from ALBAA and ANSA for the effort to make the changes in access hours. It's much appreciated.