My first attempt at some Jetty game fishing would be once again with my mate Muzza near Darwin. The drive was a pleasure past some massive termite mounds and numerous grass fires. I even encountered some wild horses along the way.
Once camp was set up and we settled down for a frothie or two, a Dingo hung around waiting to snare some scraps.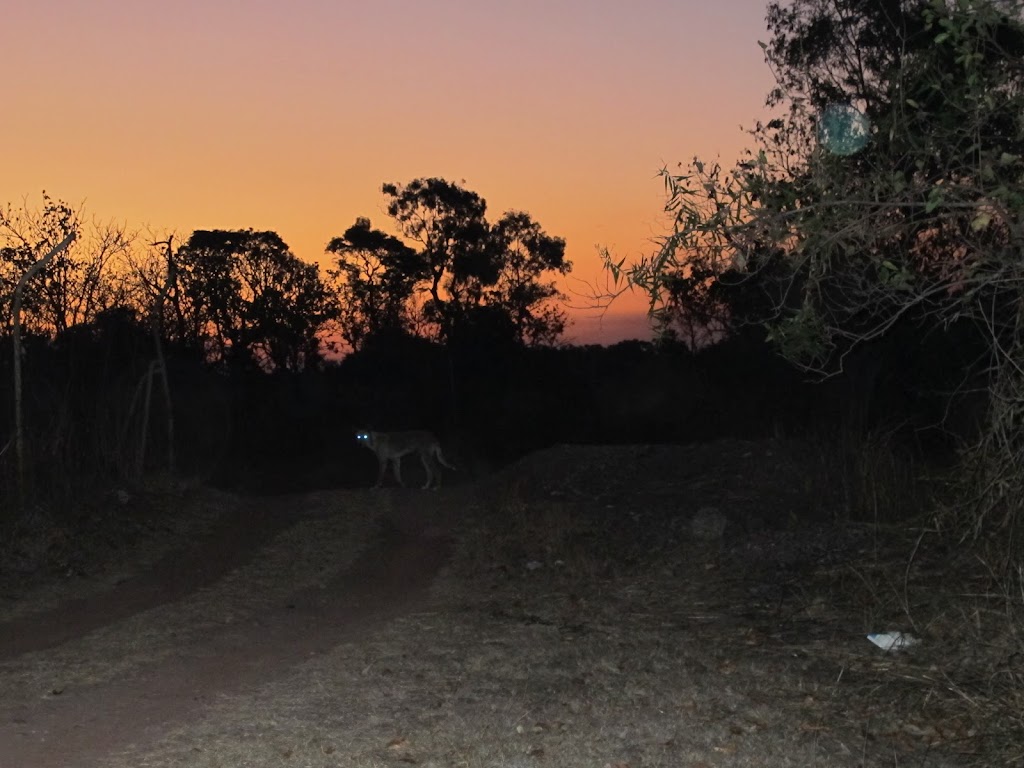 On the first day we had some fantastic fishing with Muzza hooking up first and after a few jumps a nice size Queenfish came in, but once at the pylons the fish turned and went around the pylon. Muzza quickly climbed over and passed the rod around but the line was snagged. Local fisho Russel lend a hand unhooking the line with a drop gaff and Muzza managed to handline the Queenie to the gaff. It was a quality Queenfish of 102cm.
The next hookup came my way and i landed a nice Queenfish of 100cm on the knocker.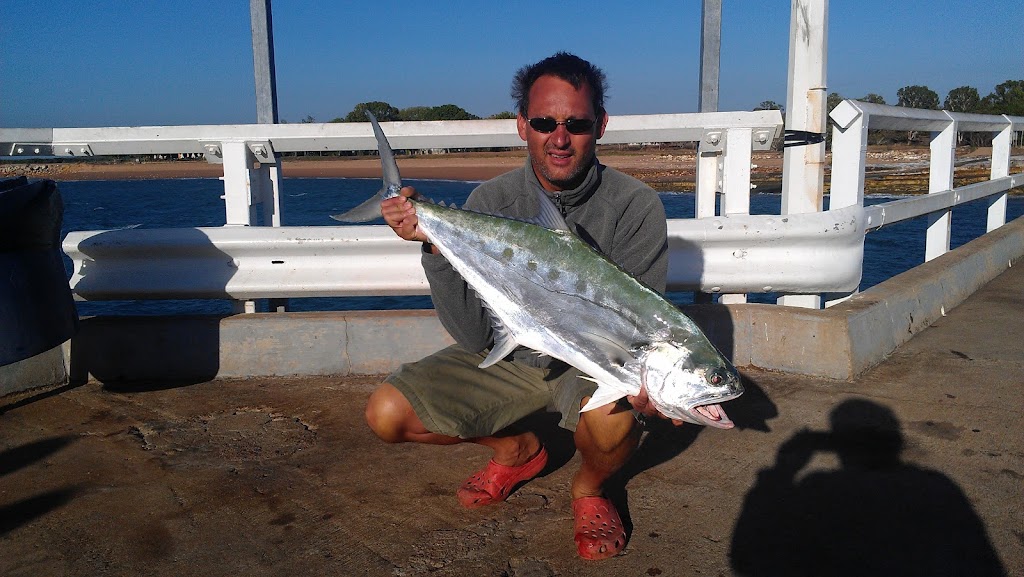 In the afternoon i fished in the shallows for Garfish as bait when i heared Muzza yelling out "I'm on". His reel was peeling line and the drag on his 20lb spin reel was getting hotter by the second. We called it for a Spanish Mackeral and after a great fight we saw indeed a Broadbar Spanish came up to the gaff and we pulled him up on the Jetty. What a great catch.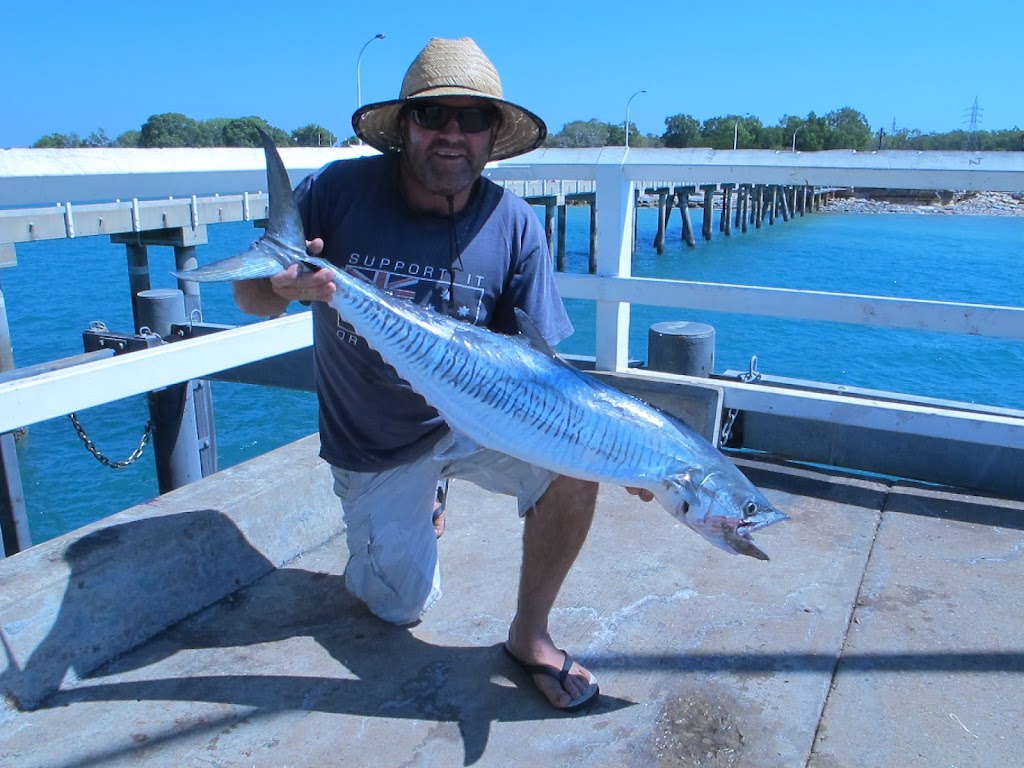 The next day started early as usual and Herring were caught and put in the pool for bait later on.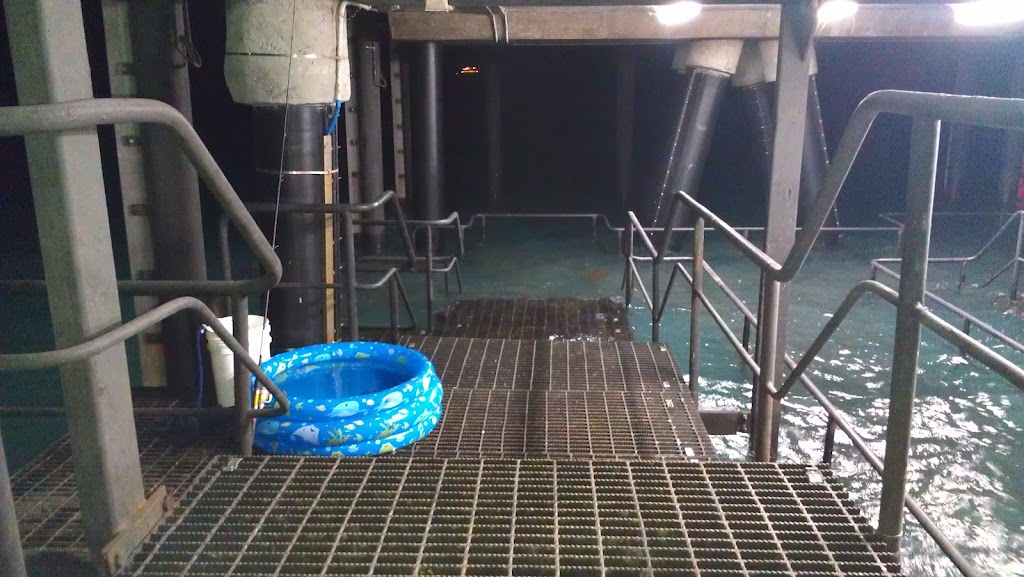 Whilst catching the Herring i took some video of a sea snake hunting amongst the pylons as well:
Anticipation was high as always when the sun came up over Darwin.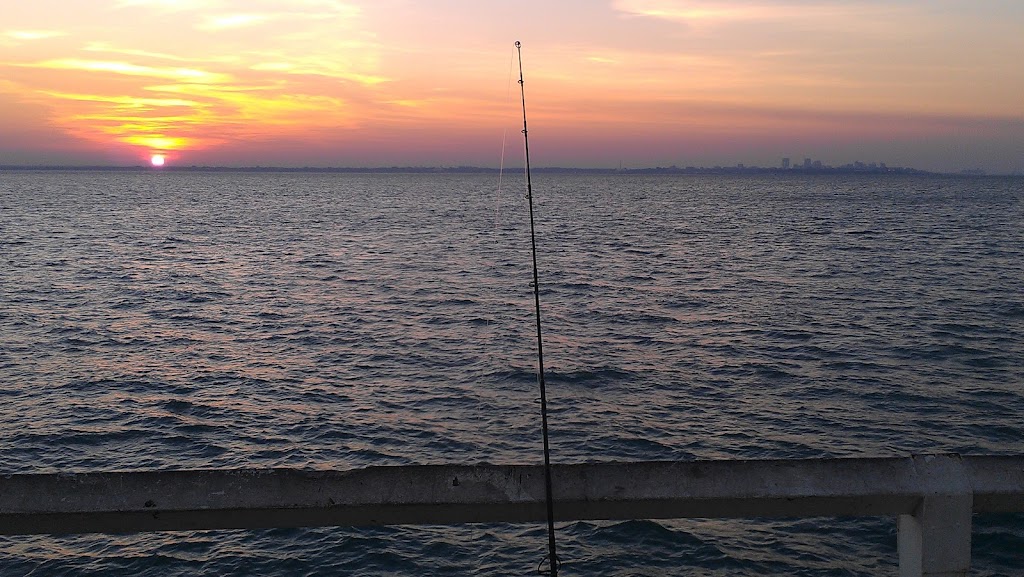 As it turned out i had a shocker over the next two days with a Spanish Mackeral biting through my wire trace, loosing a GT at the pylons and another on a reef whist trying to tire him out wide.
Muzza's skill was a pleasure to watch when he brought in another Queenie on light gear.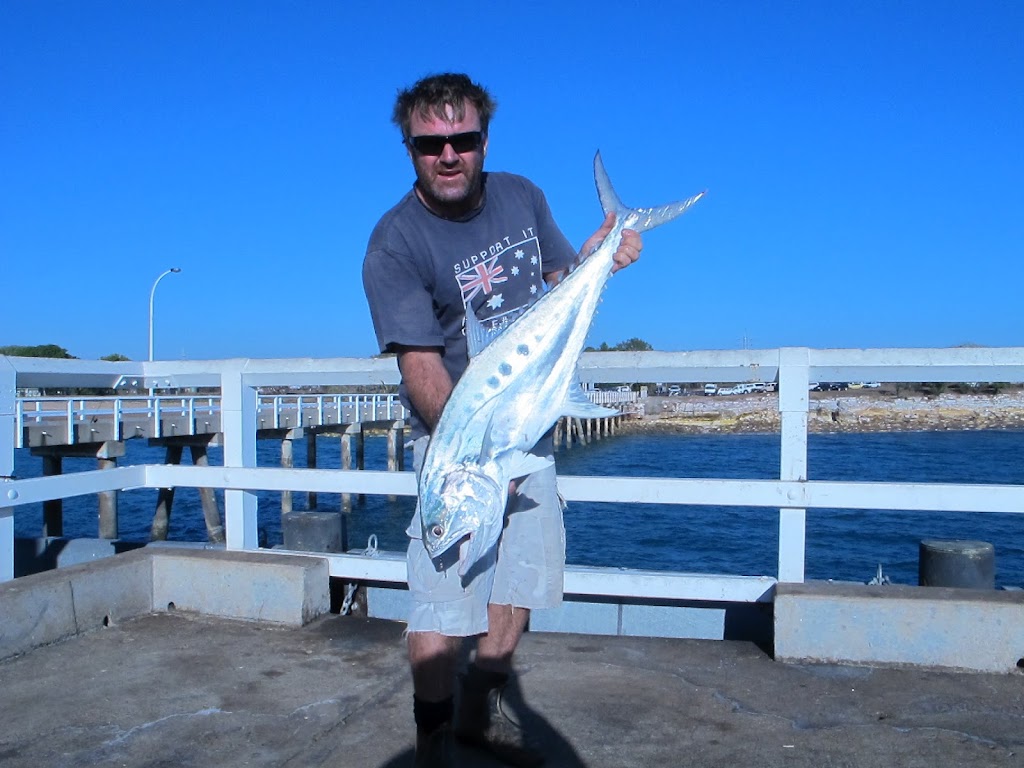 In the afternoon Muzz had another run and this fish was running deeper, indicating it might be a GT. Every time he jerked the rod the fish would head out and away from the oyster encusted pylons and eventually tyring out away from danger, he brought it to the gaff. Another great landbased GT on 20lb gear.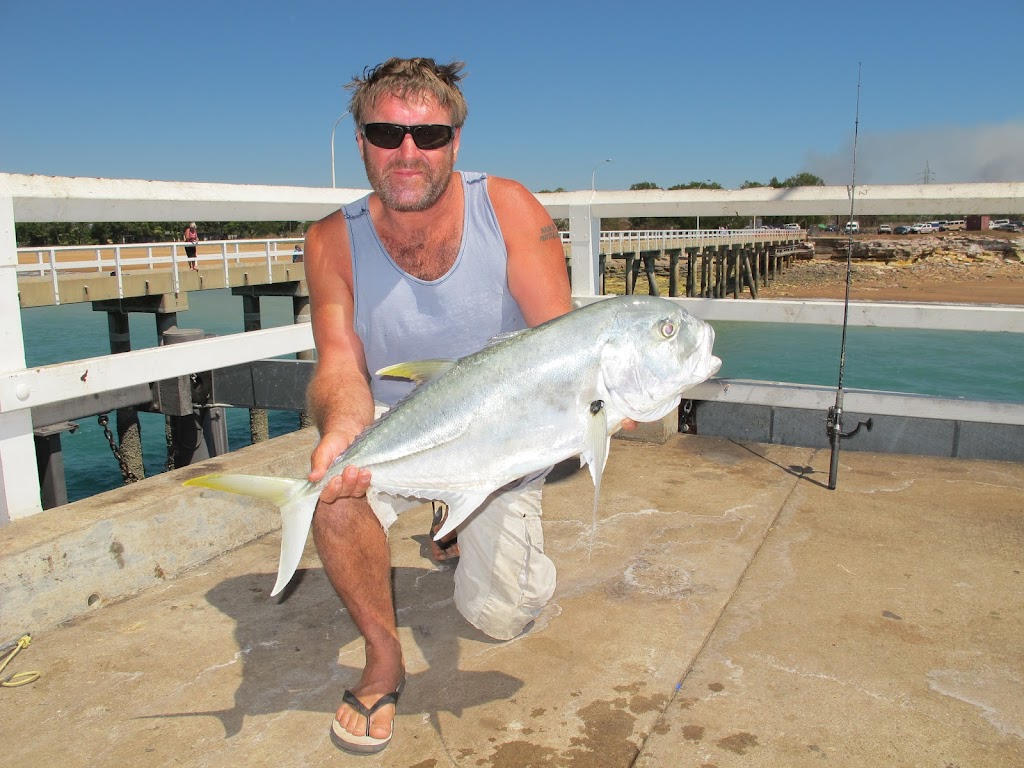 On the last day Muzza spotted a pod of Longtail Tuna and cast a lure amongs them, hooking up instantly. This video shows how hard it is to land quality fish from a high Jetty:
Then just in the last hour, Muzza's partner Ariella's rod went off and i took this video of what followed:
This was Ariella's first game fish and it measured a whopping 109cm. She was over the moon and so was every one else. What a great fish.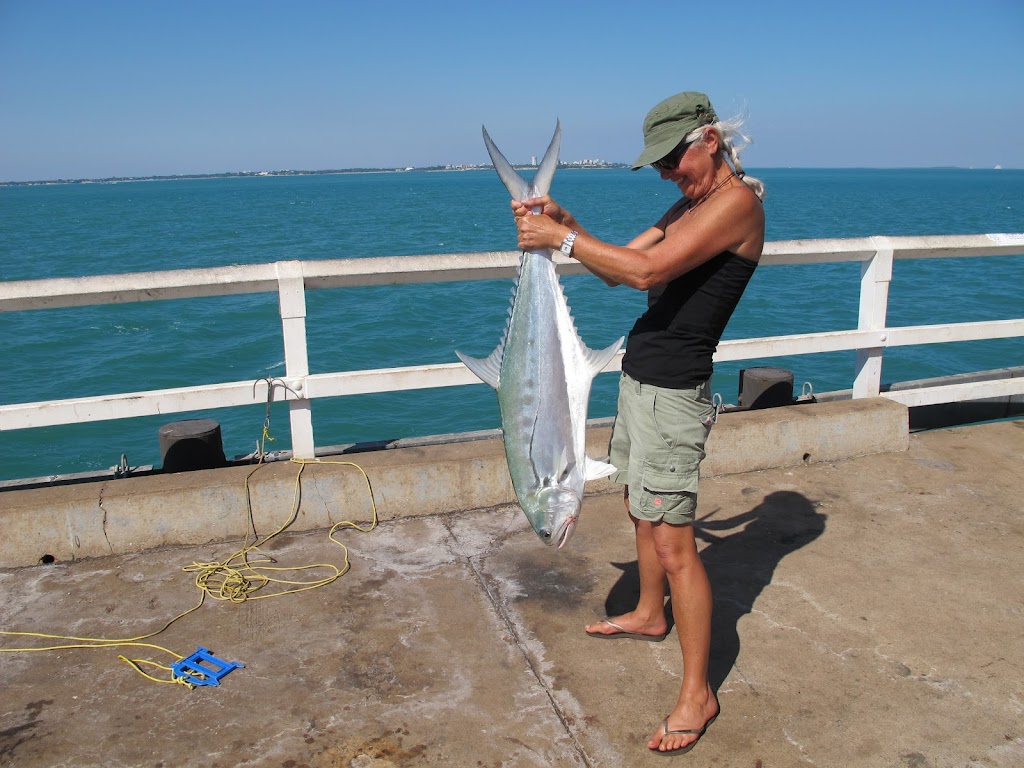 I would also like to thank local fisho's Russell and Bob for helping us out with their gaffs and giving us some great tips.