There has been no fishing video or article that has ever inspired me as much as the story of Adam Epifanis or "Epi" as we all know him. In 2008 i picked up issue 58 of the Saltwater Fishing magazine and there was an article in there titled "Land Based Game Grand Slam" and it was Epi's story of the unbelievable achievement of landing 6 of the major species in one season.
Anyone that fishes for game fish of the rocks knows it can take years, if not a lifetime to land one of these prestigious fish from the rocks and some guys have spent a lifetime chasing one of them without success. At that time, all I caught was a Kingfish and I was only dreaming of a Yellowfin or Marlin and I saw the anglers around me living the same dream. So it's needless to say reading that article just blew my mind.
In later years I started making more fishing tackle, including LBG gaffs and Epi was a driving force to improve them and his feedback was invaluable. We are even working on a release hook together which he developed and is quite revolutionary in shape but more on that another time. Working with Epi it becomes clear that none of his success is luck. The guy is simply switched on about what goes on around him with currents, patterns, fish behaviour and how to fight a fish, not only with a heavy tackle but also knocking over trophy fish on light tackle.
In 2014 Busted Fishing started to grow a little bit bigger and we were in a capacity to sponsor 3 anglers with gear, which not only helped us with promotion but also giving us more good feedback. Our Ultimate gaff was the 3rd revision land-based game gaff and we were humbled to have Epi on board from the start.
Epi and Goshie pioneered the idea of catching XXL size Yellowfin Tuna from the rocks at Ascension Island and ran that idea past a couple of other anglers but didn't have the funds to pull it off themselves. The idea became reality with some massive Yellowfin landed by a German and an English angler and Epi made some huge sacrifices to put together a trip for 2015.
Needless to say, I was super stoked to have a tiny bit of involvement with our Bee's Knees reel spooling gear that helps to pack braid on super tight and we also made a special length Ultimate gaff for travelling from Australia, via Germany to England and then by military plane down to Ascension Island.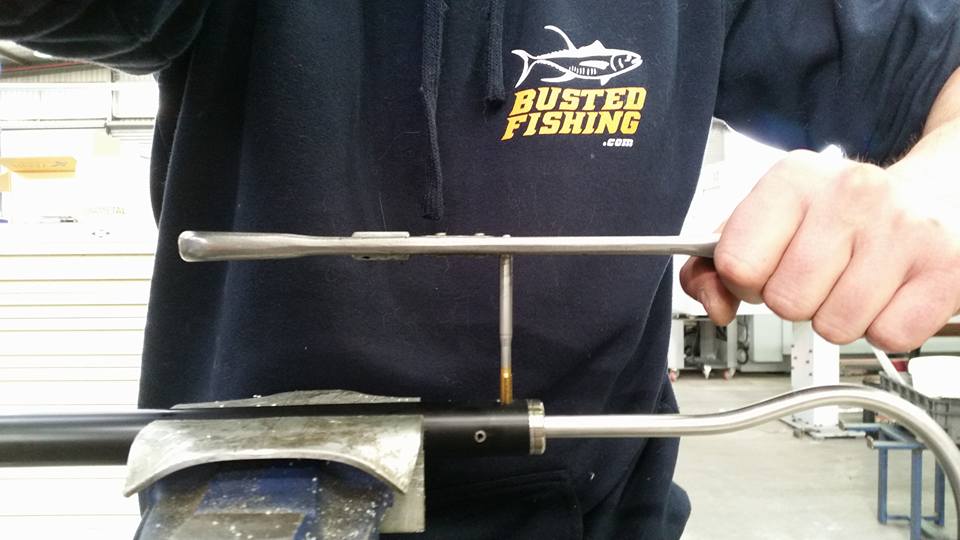 The gaff that helped make history
In the months leading up to the departure, we stayed in touch and it became clear it wasn't just tackling prep to perfection that was required, but also physical training, diet and getting mentally ready and I had the feeling Epi was in the best shape possible. The only problem I could see was him sitting still in a plane for more than thirty hours.
Epi was on his way to Ascension and I couldn't help buzzing for him, wondering how he would go. I even left my phone on at night and told him to ring me anytime and it was 2 am when it rang. Epi was on the other end going "I did it" and I couldn't believe what he was telling me.
Epi just caught the worlds largest land-based Tuna, a 107.5kg Yellowfin, weighed on IGFA registered scales over 4 hours after capture. Fought with a Daiwa Dogfight spin reel and landed with the Busted Fishing Ultimate gaff. It was just simply mind-blowing and when the pictures came through I just smiled. What can you say, he sure did it.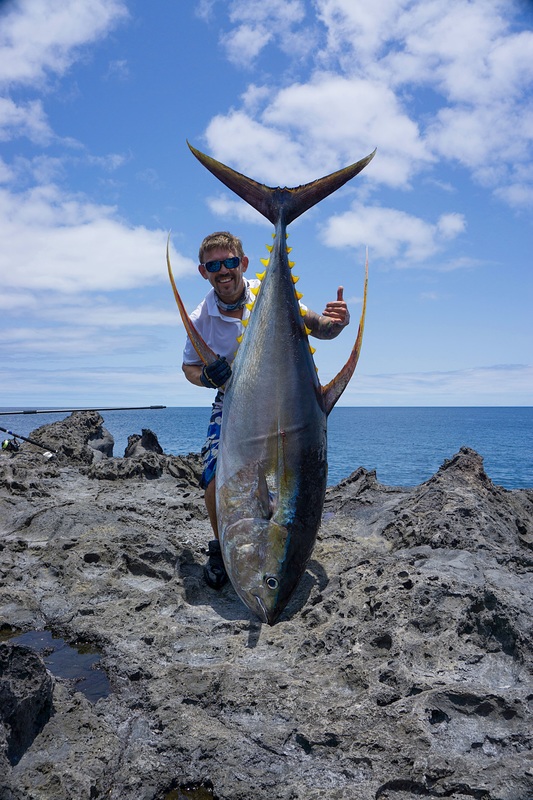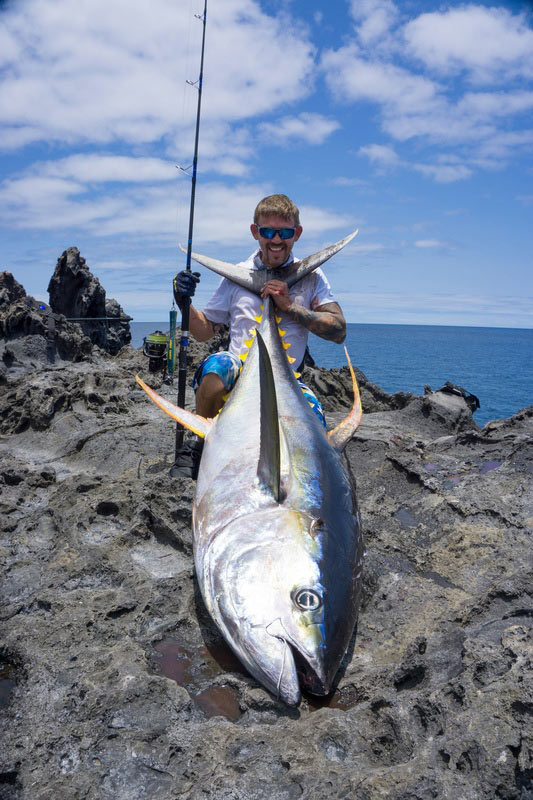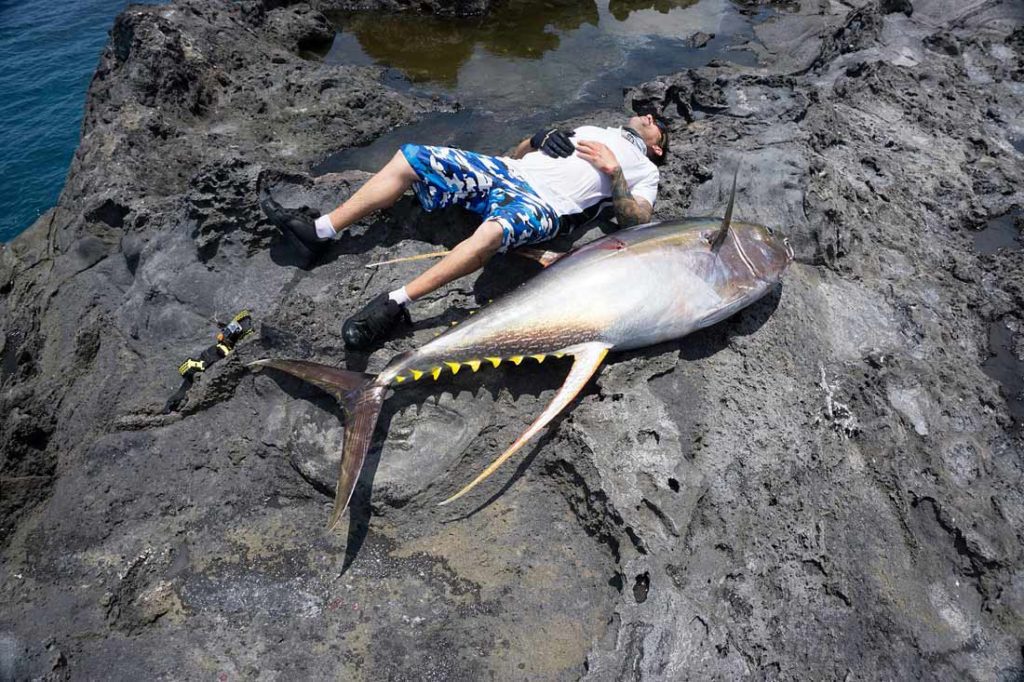 Massive congratulations Adam Epifanis on the capture of the worlds biggest Tuna from the shore. From myself, Kerry and the Busted Fishing team. And we cant wait for the up and coming article and release of the GoPro footage.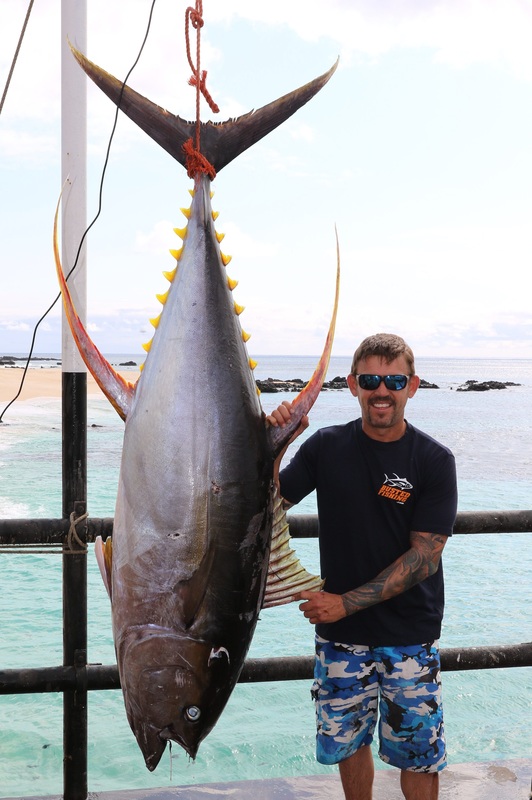 But we still can't work out how you sat still for more than 30 hours in that plane 🙂
MORE FROM BUSTED FISHING CLICK HERE
Landbased Spanish Mackerel on 8kg mono line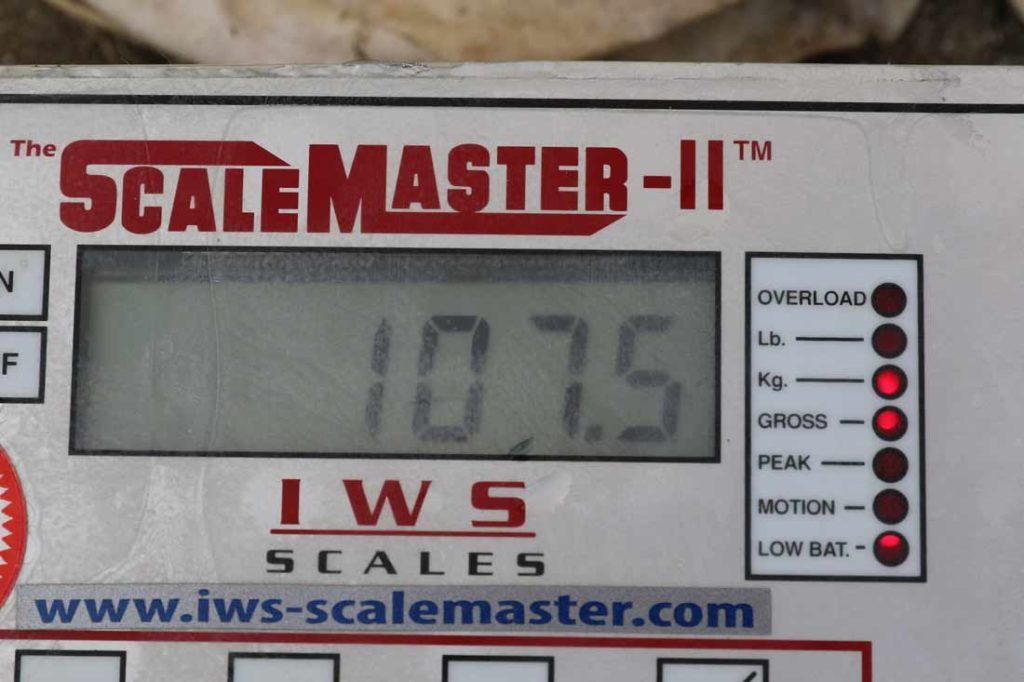 Here are the six he knocked off in the 2007 season, the "LBG Grand Slam" achieving his land-based Masters in one season, something that has not been duplicated to this day.